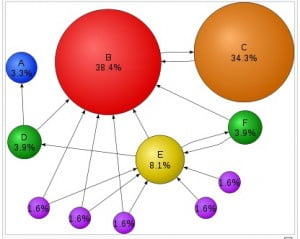 Google baru sahaja mengemaskini PR atau PageRank bagi website yng diindeks oleh laman cariannya dan setelah sekian lama blog ini PR2 akhirnya Google anugerahkan juga taraf PR3. Apa signifikannya?
Mungkin bagi mereka yang baru bergiat dalam bidang blogging tak berapa nak ambil kisah berkenaan PR. Ataupun bagi website atau blog peribadi memangpun tak berapa penting sangat PR ni bagi mereka. Tapi bagi blog atau website yang mementingkan trafik disebabkan penjanaan trafik boleh menghasilkan pendapatan daripada pengiklanan misalnya, PR sangatlah penting. Ianya menentukan bertapa autoritinya website atau blog itu terhadap carian laman google.
Misalnya carian dengan keyword yang sama bagi blog PR1 dengan blog PR3, tentunya blog PR3 lebih diutamakan dimuka depan carian google walaupun menggunakan keyword yang sama.
Tapi blog yang saya kagumi adalah blog denaihati.com apabila hanya 3 bulan sudah mencapai PR4.
Definisinya adalah seperti berikut:
PageRank relies on the uniquely democratic nature of the web by using its vast link structure as an indicator of an individual page's value. In essence, Google interprets a link from page A to page B as a vote, by page A, for page B. But, Google looks at more than the sheer volume of votes, or links a page receives; it also analyzes the page that casts the vote. Votes cast by pages that are themselves "important" weigh more heavily and help to make other pages "important".